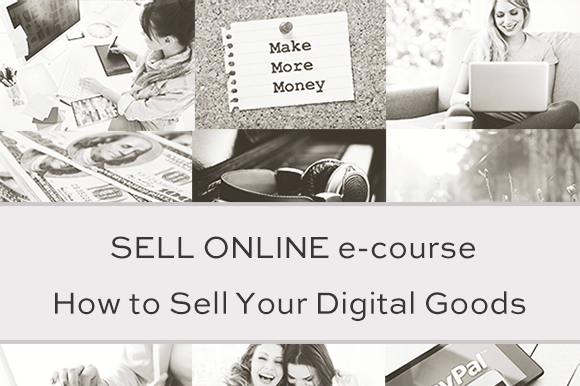 More Screenshots →
Add-on - Sell Online e-course 107956
by NA @ CreativeMarket
File Size: 67.36 KB.
Sell Online is a course focused on teaching you how you can make money online by selling your own digital goods such as ebooks, courses, music, designs and much more. Over the years I have noticed that several courses are available on how to make money online, but they focus on products you ship. I started out writing this course, as a book and soon discovered that I wanted to include much more than a book would allow.
I then decided to offer it as a course so I could share everything that I wanted plus easily update at anytime, but the great thing is I can still share the ebook with you free of charge to read on the go. In this course, I divulge all of my top secret tips and tricks. I will teach you what you need to have and do from start to finish.
I have been taught so much over the years on how to create the perfect content to sell, setting up shop and dealing with clients. I will teach you what you should do and also tell you all the mistakes I have made so you do not. You will learn how to create your own shop and all that goes into it plus MUCH more.
This course includes 20 sessions plus 4 bonuses.
1. MY STORY
2. GATHERING YOUR THOUGHTS
3. PAYPAL
4. POLICIES AND TERMS
5. START UP COST
6. PREPARING FILES
7. SETTING UP
8. PRODUCT PAGES
9. LIVE, NOW WHAT?
10. NETWORKING AND MARKETING
11. TAKE A BREAK!
12. WORKING HOURS
13. EMAIL ACCOUNT
14. WORKING FOR FREE
15. SALES AND CUSTOMER SUPPORT
16. BLOG IT
17. WRITING YOUR BIO & FAQ PAGE
18. YOUR SHOPS AESTHETIC
19. MONETIZING OUTSIDE
20. RESOURCES
PLUS THESE BONUSES
Video: ADVERTISE BETTER
Bonus: 4 TRAFFIC TIPS
Bonus: 5 MISTAKES I MADE
Bonus: SEO QUOTES
Bonus: coupon for my shop
At the bottom of each course is a progress bar so that you can easily keep up with the sessions. Nothing is due nor will the password ever expire. Once you have purchased the course you will always have access to the online course and all updates will be free to you such as the course in ebook format. The course will be updated frequently and have an area where you can ask questions and get any help you may need. Are you ready to take your products to the next level?
*course updated 9/2014
Keywords: e-course, ecourse, sell online, class, course, education.