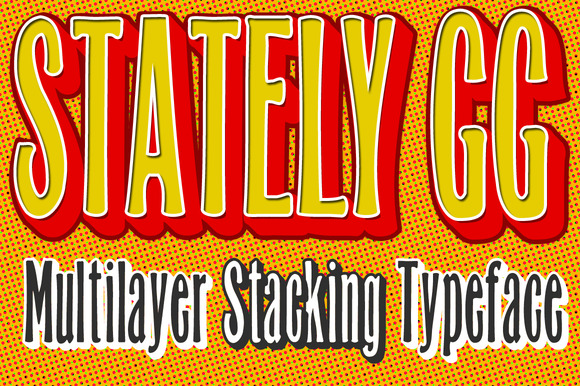 More Screenshots →
Font >> Display - Stately GG Stacking Typeface 9118
by Baseline Fonts @ CreativeMarket
File Size: 64.56 KB; Vector: Yes.
TWO LAYERED FONT: Be sure to get both the FRONT and the BACK!
quaint- adj. /kwe?nt/ quaint¡¤er, quaint¡¤est.
1. having an old-fashioned attractiveness or charm; oddly picturesque: a quaint old house.
2. strange, peculiar, or unusual in an interesting, pleasing, or amusing way: a quaint sense of humor.
3. skillfully or cleverly made.
4. (obsolete) wise; skilled.
Maintaining simultaneous shades of whimsy and versatility is no simple feat, but the meticulously constructed Stately Gothic accomplishes just that, elegantly.
Stately Gothic is a redrawn version of Grit Gothic. The strong vertical character of this stacking/layered typeface make it an ideal solution for use where legibility matters most: posters, logos, book and album covers, and so on. It is part of Grit History Series B along with Heirloom Artcraft, Worn Gothic, Grit Sans, and Grit Gothic.
Keywords: fonts, font, serif, two layer, two layered, dual layer, dual layered, serifed, baseline, baseline creative, grunge, grit, gothic, baseline fonts, historic, historical, stacking, stacking font.