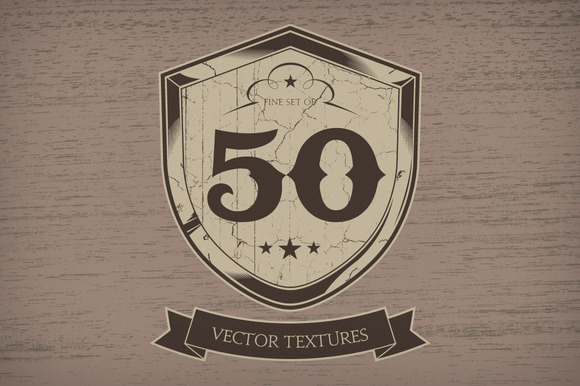 More Screenshots →
Stock Graphic >> Texture - 50 Vector Textures 20964
by Damien @ CreativeMarket
File Size: 421.02 MB; Vector: Yes.
Vector graphics are crisp with sharp edges no matter the size and that's why we love them. But there are times where we need our atwork to have a more organic and worn feel. The textures contained in this set will do just that and you'll be able to quickly distress, add noise or grain to your work.
The set contains 50 vector textures (in .eps format) made from high resolution image so you'll have plenty of details even when scaling them up a whole lot. Of course, being vector size, they can be used at any size without any loss of quality.
Color can be changed in just a click and you can easily ungroup, delete, move or combine elements that compose the textures to create your own. You'll only be limited by your imagination !
Note that you'll need a vector graphics editor sur as Illustrator or Inkscape in order to modify them. The textures can be used in raster software such as Photoshop by opening them at the required resolution for your project, but you won't be able to modify them in the same way as you would in a vector editor.
************************************************
PLEASE READ THIS BEFORE TO BUY
************************************************
A friend told me he had problems opening a couple of the files contained in this set. He is using a fairly weak laptop which in his opinion should not even be running Illustrator. But the files being highly detailled and made of many points, your machine may slow down or have troubles processing them. Before to purchase, please download this file to make sure your computer is up to the task (This is the biggest file contained in this set. If you can open that one, the rest will be fine.) : https://dl.dropboxusercontent.com/u/87316361/17.zip
---
File format
---
Files are in "EPS 10" (.eps) so you should be able to use them in pretty much any vector editing software. These are great for print or web design as they scale without any loss of quality.
---
What's included ?
---
You can see a full preview of all the elements contained in this collection by clicking on the links below .
https://creativemarket.com/Dami1/20964-50-Vector-Textures/screenshots/#screenshot4
---
Support
---
If you have a question about the files or wish to suggest new products, please send me a message through Creative Market.
---
Show appreciation
---
By showing your appreciation and raising awareness, you'll make it possible for me to dedicate more time to create new high quality work that I can share with you. Whether you buy this set or not, make sure to like it and and share it.
---
Stay in touch and get free stuff !
---
You can follow me right here on Creative Market to get notified of new products. You could also "like" my facebook page to learn about new products and receive free stuff !
https://www.facebook.com/DamienGillesCommunicationMarketing
Cheers !
Damien
PS: Please, take the time to like this product. Thanks !
Keywords: texture, vector, organic, noise, grain, ai, eps, distressed, worn, used, dirty, crack, weathered.