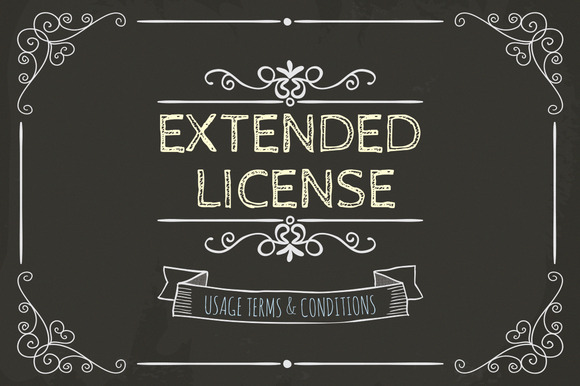 More Screenshots →
Stock Graphic >> Illustration - Extended License 109158
by Olka @ CreativeMarket
File Size: 830.06 KB; Requirements: Adobe CS1+.
With Extended License You Can.
- Incorporate Images on tangible products for resale, including shirts, hats, mugs, calendars, stationery items, cards and other small items;
- Print, paint or otherwise render a licensed Image on canvas, paper or other mediums for distribution, provided that the print, painting or rendering combines the Image with words and/or other graphics or images and/or credit to the author;
- Incorporate Images within an offline, distributed software program;
- Incorporate images into online software and electronic templates such as electronic greeting cards, content management software, presentation templates, web page builders, at a resolution no greater than the display resolution of the intended viewing device(s).
- Incorporate Images into advertising materials, posters and tradeshow signage for use in promoting the sale of other products or services (as opposed to promoting the sale of the prints, posters, etc. containing the Images), including Out-of-Home advertising, provided that the Image is an integrated, supportive part of your project or product and not the definitive part of such prints and/or posters and/or other reproductions.
- Use Images in magazines, newspapers, books, book covers and/or textbooks, for editorial and/or advertising purposes;
- Use Images in the artwork for the packaging of any product;
- Incorporate Images on letterhead and business cards, pamphlets, brochures, and catalogs provided that Images are not used as a logo or trademark;
- Incorporate Images into set design and dressing for public performance;
All other rights in the Images are expressly reserved by the author.
YOU MAY NOT.
- Use an Image for multiple uses. Each separate use of an Image downloaded hereunder requires a separate payment. For example, if an Image is used as part of a website design and in a business card, each of those uses requires its own Image license which must be paid for each use. This is accomplished by downloading and paying for the Image as many times as necessary. Using an Image in multiple products without purchasing separate licenses for such uses might expose you to liability for copyright infringement.
- Use an Image in such a manner that it infringes upon any third party's trademark or other intellectual property.
- Use an Image in a way that places any person depicted in the Image in a way that a reasonable person would find offensive - this includes, but is not limited to the use of Images: a) in pornography, "adult videos" or the like; b) in ads for tobacco products or other addictive substances; c) in ads or promotional materials for adult entertainment clubs or similar venues, or for escort, dating or similar services; d) in connection with political endorsements; e) in advertisements and/or promotional materials for pharmaceutical, healthcare, herbal or medical products (including, but not limited to dietary supplements, digestive aids, herbal supplements, personal hygiene or birth control products), if the use implies that the depicted person suffers from a physical or mental infirmity, ailment or condition or engages in any immoral or illegal activity; f) in any manner that suggests the model personally uses or endorses any product or service; and g) in any manner that is defamatory, or contains unlawful or offensive content.
- Share an Image by providing access to such Image on shared disk drives, computer networks, servers, cloud network or other intranets of any nature or otherwise.
- Use any Image(s) on any third party social media website or platform (a "Social Media Platform"), if such Social Media Platform claims to acquire rights contrary to this Agreement as a result of such use. In such event, you will promptly remove the Image(s) from the Social Media Platform upon the author's request.
- Use any Image (in whole or in part) as a trademark, service mark, logo, or other indication of origin, or as part thereof, or to otherwise endorse or imply the endorsement of any goods and/or services.
Use or display an Image in such a manner that gives the impression that the Image was created by you or a person other than the copyright holder of that Image. Additionally, you may not use or display any Image in such a manner that gives the impression that any person depicted in the Image is the author of any product in which the Image is incorporated.
Keywords: extended, license.