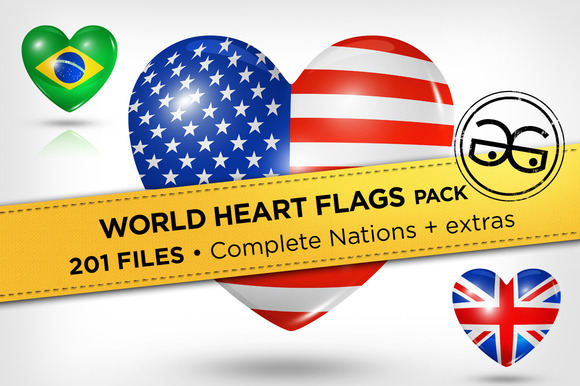 More Screenshots →
Stock Graphic >> Icon - World Heart Flags 234395
by GoodGoods @ CreativeMarket
File Size: 462.42 MB; Dimensions: 4700 x 5286 px.
World Heart Flags - Complete Nations Collection
This Pack contains 201 high resolution heart flags images for all use from icon to billboard! 3D rendered illustrations. Isolated with Clipping Path
Africa .
Algeria, Angola, Benin, Botswana, Burkina Faso, Burundi, Cameroon, Cape_Verde, The Central African Republic, Chad, The Comoros, the Republic of the Congo, The Democratic Republic of the Congo, Cote d'Ivoire / Ivory Coast, Djibouti, Egypt, Equatorial Guinea, Eritrea, Ethiopia, Gabon, The Gambia, Ghana, Guinea, Guinea Bissau, Kenya, Lesotho, Liberia, Libya, Madagascar, Malawi, Mali, Mauritania, Mauritius, Morocco, Mozambique, Namibia, Niger, Nigeria, Rwanda, Sao Tome and Principe, Senegal, Seychelles, Sierra Leone, Somalia, South Africa, South Sudan, Sudan, Swaziland, Tanzania, Togo, Tunisia, Uganda, Zambia, Zimbabwe
Asia .
Afghanistan, Armenia, Azerbaijan, Bahrain, Bangladesh, Bhutan, Brunei, Cambodia, China /the People's Republic of China, Cyprus, East Timor, Georgia, India, Indonesia, Iran, Iraq, Israel, Japan, Jordan, Kazakhstan, Kuwait, Kyrgyzstan, Laos, Lebanon, Malaysia, Maldives, Mongolia, Burma Myanmar, Nepal, North Korea, Oman, Pakistan, Palestine, The Philippines, Qatar, Saudi Arabia, Singapore, South Korea, Sri Lanka, Syria, Tajikistan, Thailand, Turkey, Turkmenistan, The United Arab Emirates, Uzbekistan, Vietnam, Yemen +++ Hong Kong, Taiwan
Europe .
Albania, Andorra, Austria, Belarus, Belgium, Bosnia and Herzegovina, Bulgaria, Croatia, The Czech Republic, Denmark, Estonia, Finland, France, Germany, Greece, Hungary, Iceland, Ireland, Italy, Latvia, Liechtenstein, Lithuania, Luxembourg, Macedonia, Malta, Moldova, Monaco, Montenegro, The Netherlands, Norway, Poland, Portugal, Romania, Russia, San_Marino, Serbia, Slovakia, Slovenia, Spain, Sweden, Switzerland, Ukraine, The United Kingdom, the Vatican City +++ England, European union community
America .
North .
Antigua and Barbuda, The Bahamas, Barbados, Belize, Canada, Costa Rica, Cuba, Dominica, The Dominican Republic, El Salvador, Grenada, Guatemala, Haiti, Honduras, Jamaica, Mexico, Nicaragua, Panama, (editorial use only), Saint Kitts and Nevis, Saint Lucia, Saint Vincent and the Grenadines, Trinidad and Tobago, The United States
South .
Argentina, Bolivia, Brazil, Chile, Colombia, Ecuador, Guyana, Paraguay, Peru, Suriname, Uruguay, Venezuela
+++ USA / UK mixed flag
Australia / Oceania .
Australia, Fiji, Kiribati, The Marshall Islands, the Federated States of Micronesia, Nauru, New Zealand, Palau, Papua New Guinea, Samoa, The Solomon Islands, Tonga, Tuvalu, Vanuatu
See previews for content samples and details.
File Type : JPEG
Size : 4700 x 5286 px
I Hope you enjoy these products!
Feel free to ask any questions.
IMPORTANT NOTICE : PANAMA FLAG
Panama flag included. This flag can't be sold or used for commercial use without permission. Editorial use only.
Keywords: flag, heart, love, national, world, nation, icon, symbol, tourism, travel, isolated, clipping path, isolated on white, white background, banner, 3d, render, illustration, shape, goodgoods.